ABOUT 
SONDER
 
Sonder Hospice & Palliative Care provides individualized, compassionate care to patients in Austin, Texas, with serious illnesses through symptom management, education and support. Our services are delivered by our expert care team of physicians, nurses, and social workers based in Central Texas with the same goal in mind – to enrich quality of life and promote compassionate care.
We specialize in delivering quality at home hospice care, and we pride ourselves in educating our community about end of life transitions. If you are looking for hospice or palliative care services in the greater Austin area or would like to connect with the Sonder Hospice team, give us a call. We would love to hear from you and be honored to support you on your journey. 

Lloyd first witnessed the power of hospice while serving as the best man for his brother, who married the love of his life surrounded by family members in the bedroom of a dying family member. Hospice made this beautiful moment possible and now, more than two decades later, I'm still inspired by this moment and the promise of living fully in the face of an advanced illness. I launched Sonder to elevate how we support those facing advanced illnesses.
Sonder is inspired by the pursuit of providing a human-centered service, our hometown of Austin, TX, Reimagine End of Life, and Atul Gawande's, "Being Mortal". Sonder's vision is to improve the quality of life in our community by reducing anxiety and suffering caused by advanced illness and inspiring each other to live fully.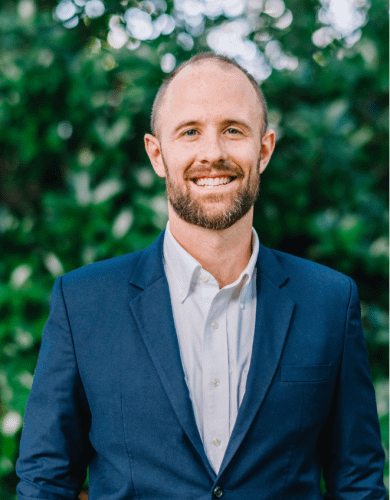 CEO & Founder of Sonder Hospice of Austin TX
We are disciples of the Reimagine End of Life movement. Sonder values diversity and inclusivity, and we strive to reflect in our own service the beauty and humanity of the world around us.
We are inspired by our hometown of Austin, Texas, and we love meeting new people with different ideas and impactful services focused on elevating care and life. If you want to meet us, are looking for hospice in Austin TX, or if you're interested in working with Sonder, email contact@sonderhospice.com.
What Matters to the Sonder Austin Hospice Team
The Sonder Hospice and Supportive Care Team views each individual as unique and valuable. Our values inspire living fully and practicing constant mindfulness in our acts of service to others.
Reverence for Life
Compassionate Care
Integrity
Service 
Accountability
Growth 
Make Austin hospice care be about the individual
Provide individualized compassionate care to patients in Austin TX with serious illnesses through symptom management, education and support. 
Top quality provider of Austin TX palliative and hospice care
To be recognized as expert providers of hospice Austin care, palliative care, management of advanced disease and grief support and to be the agency of choice for the provision of these services.
Ending well is a human experience worth striving for
To be recognized as innovators and leaders in all aspects of end-of-life resources. To influence the perceptions within the community and among medical professionals so that the end of life is accepted as a meaningful component of the human experience.
Lloyd Wilson
Founder & CEO of Sonder Hospice & Palliative Care
Dr. Charles Owen, MD
Chief Medical Officer & Medical Director
Patty Klaerner, RN
Executive Director

Dr. Jose Perez, MD
Associate Medical Director
There aren't enough words to describe the love and support we received from Sonder Hospice. They treated my stepmother and our entire family with the utmost love, dignity and respect. The staff, from Patti, Caitlin, Dr. Perez to name a few became like family to us as we journeyed down a road we weren't familiar with. My stepmother wanted to pass at home and these "angel" people loved on her in the most sacred, respectful, beautiful way. Thank you for sharing your gifts <3
The staff at Sonder's Hospice came to my rescue in one of the most difficult times of my life. I called just after getting the news my dear friend was not going to make it and needed immediate hospice care as treatment was not an option. I reached out to Loyd who was very caring. He set up an interview and The whole team Dr, Nurse Patty, Pastor Martin, and Loyd showed up as soon as we were ready. The day they got there we got all his medication and equipment within hours of them getting there. I did not have to worry about money or anything as all I could think of was my friend and what he was going through. Patty the nurse was always there every time I called which was a lot. Martin the Pastor text me daily and would have coffee with me. Loyd would call me weekly to see how I was doing and he became a sounding board for my many emotions. Enough about me. Ron, my friend was scared and wanted dignity and that is exactly what he got. He had been in pain but always said he really was not. They went quickly through a regimen and found the right medication for him. He was so grateful for the relief and thank me. I told him to Thank patty the nurse who would call the Doctor and get him in a minute and have the meds within an hour. My friend had what he asked for and Sonders helped us both through it. Patty and Martin drove all the way to San Antonio for the funeral and continue there to support me. I will forever be grateful